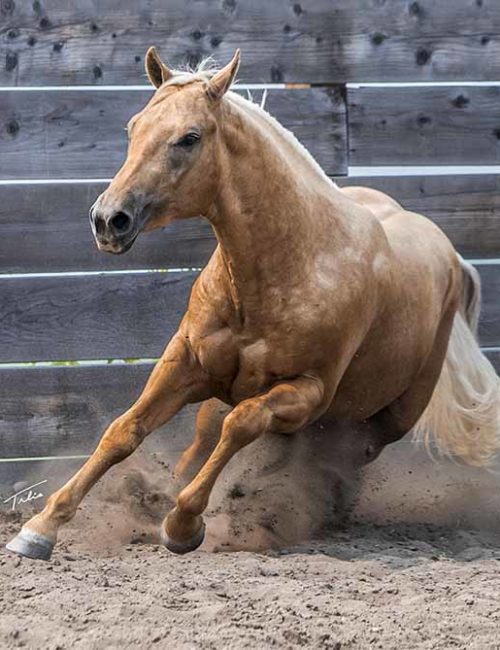 Name:
MP Hot Hayday
Year of Birth:
2016
Color:
Palomino
Height:
15.1 hh
Weight:
1100 lbs
Owner:
Laura & Jason Michielsen
Phone:
(403) 370-2665
Standing At:
Yet to be determined
Semen:
Since he is competing in 2021 he will have frozen semen at a location yet to be determined
Incentive Eligibility:
CBHI, Cowboy State, Pink Buckle, Ruby Buckle, VGBRA, Western Fortunes
MP HOT HAYDAY is a ¾ sibling to Sherry Cervi's legendary mare STINGRAY and he has a black type pedigree. His buckskin Dam has earnings in barrels and in the roping pen.
His sire PC FRENCHMANS HAYDAY competed at the NFR in barrels and roping. He would often compete in both events in one day at rodeos and would pull checks in each.
"Starbucks" is a very effortless mover and has a lot of focus and is mentally mature even as a young colt. His big soft eye lets you know he has a lot of try. He is game for anything you put in front of him.
His offspring are eligible to run for well over $5,000,000 at Pink Buckle and Ruby Buckle events.
If you are looking for a stallion with the genetics that are known to be built to last and versatility at the highest level then this is your stallion.
"Starbucks" will be competing at the futurities with Caroline Boucher in Canada and the US in 2021.
Stallion Fee: $1,200 CAD + LFG
Stallion's Website >
Pedigree >