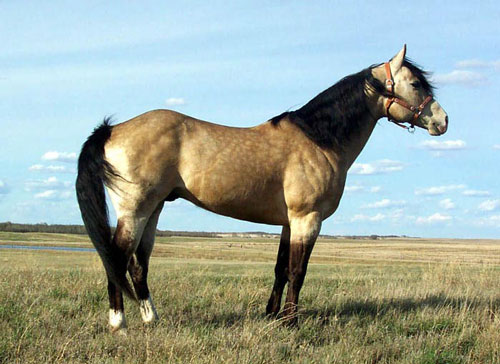 Name:
Frenchmans Buck
Year of Birth:
1999
Color:
Buckskin
Height:
15.1 hh
Weight:
1150 lbs
Owner:
Kevin &/or Marla Grad
Phone:
(306) 537-4159
Standing At:
Coyotee Flats Performance Horses, Vibank, SK
Semen:
Shipped Cooled Semen or AI on farm
Incentive Eligibility:
CBHI, CBHI SS, SBRA Saskatchewan Breeders Barrel Bonanza, Western Fortunes
FRENCHMANS BUCK is a Futurity, Derby & Rodeo money earner and a sire of Futurity, Derby & Rodeo money earners. "Frenchie" is also proving to be a broodmare sire. He is sired by Frenchmans Guy who has held the Decade's #1 living sire position & whose progeny has earned in excess of $13 Million. Frenchmans Buck produces offspring with good bone, nice kind eye and they are athletic. Many of Frenchmans Buck's offspring are competing in the High School Rodeo Associations as well.
Stallion Fee: $800.00 CDN $150 collection fee plus shipping + LFG
Stallion's Website >
Pedigree >
Notable Achievements:
3rd in the Amateur division at the 5-State Barrel Futurity and Derby in Rapid City, SD. He placed 3rd in the 1st Go Round at the Diamond N Derby in Stettler, June 2005 and 8th in the Average. Sire of the High Selling Yearling at the Rocking W Horse 2003; High Selling Weanling at the September Showcase Sale; High Selling Weanling at the 2009 CBHI Sale & the High Selling Yearling at the 2015 CBHI Sale.