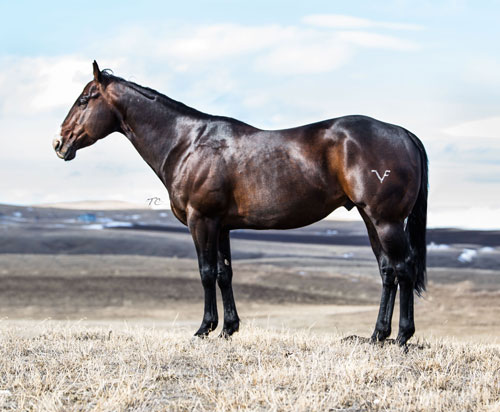 Name:
Blackgold Jack
Year of Birth:
2009
Color:
Bay
Height:
14.3 hh
Weight:
1130 lbs
Owner:
Annette Moore
Phone:
(250) 784-5265
Standing At:
Gull Lake, SK – Frozen/cooled available at Blue Sky Veterinary Clinic-Medicine Hat, AB
Semen:
Live, Cooled, Frozen
Incentive Eligibility:
CBHI, CBHI SS, Western Fortunes
BLACKGOLD JACK is super minded stallion with a great disposition! He is easy to be around and haul. Jack is not huge in stature but huge in heart and sure throws size in his offspring. In his first year of competitions which was 2018 he was always in the 1D at big jackpots and made checks at CPRA rodeos. The most exciting thing about Jack is his offspring!
He has a total of 7 offspring which are 6 and 7-year olds! All are placing in rodeos and running in the 1D at large jackpots!! That's 100% success rate!! He has 3 5-yr olds 2 of which are showing they are close to the winners circle and one that was hurt and not started!!
So with these small numbers and the performance of all of them I'm thinking the odds of a winner produced by BLACKGOLD JACK are pretty high if you're a betting person!!
Stallion Fee: $1000.00 + LFG
Pedigree >
Notable Achievements:
7-Yr Old Foal Crop
STRAIGHT BACK TO FAME – 1D Money Earner; 2ndplace CBRSD Long Go-Round; CBHI Futurity Short Go Qualifier; 5thCBHI Futurity Average excess of $3,000.00 in 2017 Futurity Earnings
LEROY – Yellow Rose Futurity Champion; CBRSD Futurity Short go Qualifier; CBHI Top Ten Average total of $6796.00 in 2017 Futurity Earnings
RNR BONANZA GOLD – 1D Money Earner plus multiple Rodeo Earnings
BONANZA GOLD – 1D Money Earner plus multiple Rodeo Earnings
BUNNY BLACKJACK DEAL – 1D Money Earner
6-Yr Old Foal Crop (3)
RNR LOOK WHOS FAMOUS – 3rd– 2018 CBHI Super Stakes; 1D Money Earner
FIFTEEN MINUTES OF FAME – 1D Money Earner
5-Yr Old Foal Crop (3)
BULLY FOR GOLD – Placing in a Go-Round at the 2019 Yellow Rose Futurity
SMIRKS AT FAME – Kayla Mezei coming together amazing
HOT FAME – Unshown due to injury